Terry Richardson Reportedly Banned From 'Vogue,' 'GQ,' 'Vanity Fair' And More
Celebrity photographer Terry Richardson has reportedly been blacklisted by leading publisher Condé Nast. All magazines under the publishing house, including Vogue, GQ, Vanity Fair and Glamour, will no longer utilise the photographer for their publications– and truth be told, this couldn't happen soon enough.
Richardson has been a longtime regular in the celebrity photographer stratosphere, working with everyone from Rihanna to Beyonce to president Barack Obama in his tenure.
Unfortunately, his long list of notable names hasn't come without some grave and expansive claims of sexual assault.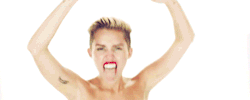 The 52-year-old photographer is notorious among the modelling community for asking to be called "Uncle Terry" while photographing nude, teenaged models. This is only in addition to jarring incidences like the case of model Jamie Peck, where Richardson reportedly asked her to strip, to which she responded she was on her period.
Richardson then reportedly asked her to "take her tampon out for him to play with," adding that he'd like to use it to make tea. Richardson then decided to himself, get naked. 
Supermodel Rie Rasmussen confronted the photographer at a Paris fashion event in 2010 after she told told the New York Post:
 

"He takes girls who are young, manipulates them to take their clothes off and takes pictures of them they will be ashamed of. They are too afraid to say no because their agency booked them on the job and are too young to stand up for themselves...

I told him what you do is completely degrading to women. I hope you know you only fuck girls because you have a camera, lots of fashion contacts and get your pictures in Vogue."

 
Now, in an exclusive from The Telegraph it's been unveiled that Richardson is being banned from working with leading fashion publications. 
The Telegraph asserts that the information comes from a leaked staff email where employees were told to kill or substitute commissioned works from Terry Richardson that had not been published yet.
The Telegraph reports the email was addressed to "country presidents," and was written by James Woolhouse, the executive vice president and chief operating officer of Condé Nast. The email is reported to have said:
 

I am writing to you on an important matter. Condé Nast would like to no longer work with the photographer Terry Richardson.

Any shoots that have been commission[ed] or any shoots that have been completed but not yet published, should be killed and substituted with other material.

Please could you confirm that this policy will be actioned in your market effective immediately. Thank you for your support in this matter.

 
This should come as no surprise, however. Publications have been calling for the end of Terry Richardson and his implicit disregard for models' comfort for years. Now, with the surfacing of Harvey Weinstein's hugely disgusting behavior and the long-awaited consequences taking shape, it's only a matter of time before more creeps are made examples of in Hollywood. 
Allow this to be a lesson for men working in Hollywood and beyond; unwanted advances and sexual assault will no longer go ignored.  
Read More - > Quentin Tarantino admits he knew about Harvey Weinstein's misconduct