Keanu Reeves Wants To Perfect The Script Before 'Bill And Ted' Return
Bill and Ted are possibly some of the best known dudes in cinema. Having garnered cult status for their first  bro-tastic time travelling adventure in 1989, and success for their second outing two years later, now Keanu Reeves aka Ted has revealed details surrounding a follow-up film.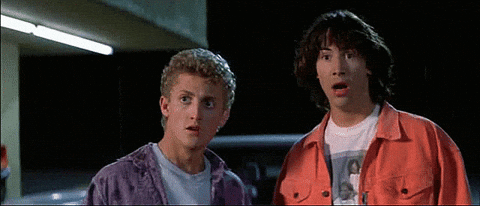 Speaking to IGN about the project, which has been in development for some time. Keanu made it sound almost as if life was imitating art, with the pair going back in forth in time trying to perfect the script before getting started on filming.
Some fans might wonder how something like the youthful, dumb adventures of Bill and Ted could be reprised all these years later, however if we're ever to see a third movie it looks like we'll be waiting a little while.
"We're just trying to get the script together. We're trying to get the story right. We're working with this studio so we have a little bit of support, in a sense of like if the material comes through we'll try and make this picture. We're really just still trying to get the story right." 
Understandably for something as nostalgic as one of cinemas best bro-comedies, both Keanu and his partner in crime Alex Winter aka Bill want to actually make a film that fans would enjoy, therefore they're taking their sweet time about getting around to filming the thing.
Much like another early 90s slacker classics like Wayne's World, it would be sad after all this time (rumours of a Bill and Ted 3 have been around since 2014) the follow-up were to fall flat. So like the greatly anticipated sequel to Trainspotting, we'll sit semi-patiently and wait for a trailer... a cast list, anything.
Pour vous :