Dos And Don'ts: Your Guide To Perfect Parisian Etiquette
Ahhh Paris. What a wonderful city...  A place that wouldn't be the same without its tourists, hence why the City of Lights' rules don't exactly apply to everyone. To get you ready for your next trip to the French capital, we've made a little guide to perfect your Parisian etiquette. 
DO: Think 'what' before 'where'
If you're looking for a good hangout place, first look up the city's cultural agenda. Let the concerts, exhibitions, festivals and parties tell you where to go. Facebook or paris.fr, the official website of Paris, are great starting places, with many suggestions of the events you wouldn't want to miss. Remember: "What" always comes before "where". 
DON'T: Rely on the store-fronts
The city of Paris is full of galleries. Often stuck between two Haussmann buildings, they can easily go unnoticed. Do not hesitate to sink into these passages with often house charming boutiques and architectural curiosities. You will definitely be surprised by the passage du Grand Cerf, especially when you'll see the many authentic little shops it has to offer.
DO: Enjoy local products
The French have good beers but they tend to have even better wine. We're talking about the country of wine and cheese. Try local delicacies. They're better and way cheaper there than what we've got at Tesco. If you feel like enjoying a local kraft beer in a disused train station surrounded by chickens at the eco-friendly hangout, try La REcyclerie. And if you're more of a wine enthusiast, you'll definitely want the full Parisian experience: buy a bottle at a grocery store, get the cashier to open it for you, and enjoy it with friends and music along the Seine.
DON'T: Blame it on the waiter
French waiters can be adorable and they can be the worst; they're even famous for it. Nothing personal: Parisian discourtesy is a thing and there is nothing you can do about it. It's part of the charm. Take it as it comes, focus on the delicious food and make sure to enjoy your time. In fact, the trick is to be the nicest possible and to try and "kill them with kindness". It'll make them very uncomfortable or maybe it'll cheer up someone having a bad day.
DO: Always have a lighter on you
We hate to be cliché here but it's true, the best way to make acquaintances in Paris is to have a lighter on you. If someone asks you for a light, it gives you the opportunity to meet a local Parisian and inquire about the best things to do that evening. However, make sure you always light their cigarette yourself, otherwise you'll never see your lighter again.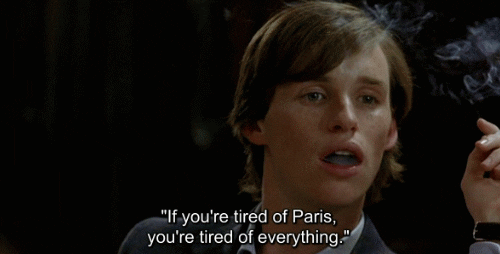 DO: Take a good walk in the city
Paris is way smaller than London, so make the most of it! Put your comfy trainers on and go out for a walk, and make sure to avoid taking the smelly metro as much as you can. It's such a beautiful city! Try to go to the outskirts of Paris and have a stroll along La Petite Ceinture's abandoned railway. You'll be mesmerised by the absurd mix of street art and growing vegetation.
DON'T: Miss out on Parisian club culture

Mostly famous in Berlin or London, it is now in Paris that club culture is in full swing. The music scene has grown and new clubs open almost every day. This is the opportunity to enjoy the frenzy of Paris, and meet the locals too. Renowned for its weekly DnB nights, the infamous Rex Club has made a name of itself for throwing the zaniest parties for more than 20 years now. The more recently opened club 824 heures is another great spot you should not miss out if you want to spend an evening full of good music and nice people. But if clubs aren't your thing, make sure to check out Cercle, which hosts various DJ sets in historical landmarks. Picture this, dancing to techno in front of an actual space shuttle!
These quick tips must become really useful for your next visit to Paris. The City Of Lights can be really frustrating if you are not in the know. In response, discover how the AccorHotels group invited two British friends to share a « 2nd Date With » Paris after they had a bad experience. This time, they had the chance to enjoy the best tips of their Paris City Guide and for sure had a whole lot better experience!
Read more -> A guide to visiting Paris, without the Parisian clichés