It was announced earlier this year that Simon Pegg and Nick Frost would be pairing up once again for a new horror comedy Slaughterhouse Rulez. Now on the thirteenth anniversary of Shaun of the Dead, Pegg has revealed that he'd had ideas for a sequel to the Dawn of the Dead spoof.
Speaking to Entertainment Weekly, the 'Cornetto trilogy' team aka Pegg, Frost and director Edgar Wright, spoke about the comedy legacy of the films and their possible follow-ups.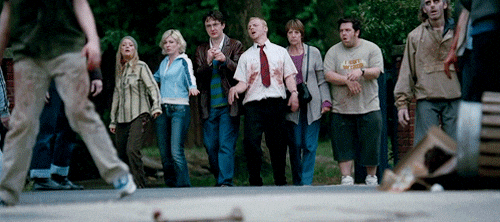 Pegg went on to explain that he'd come up with ideas for a sequel to Shaun of the Dead, taking its name from cult vampire flick From Dusk till Dawn.
"I jokingly wrote a treatment for From Dusk Till Shaun, which was a sequel. Edgar thought it would be funny to do the film again, with vampires. It was all just pub talk."
Sadly it doesn't look as if the wonderfully-named sequel will become a reality anytime soon, but it's not the first idea for a follow-up. Edgar Wright has even spoken about the potential for a Hot Fuzz sequel.
As From Dusk till Dawn was written by Quentin Tarantino and directed by Robert Rodriguez, already we can see the potential spoof power of setting Pegg and Frost's characters from Shaun of the Dead in another scenario where they have to outwit murderous vampires.
Slaughterhouse Rulez doesn't currently have a release date but keep an eye out for teasers.