Who'd have thought we'd ever see Martin Scorsese and Warner Bros unite on a feature? That is, however, exactly what has been reported by several sources overnight. According to a Deadline scoop, the studio is currently working on a new DC Comics spin-off feature based on the Joker.
Behind the camera is rumored to be Todd Phillips (War Dogs, The Hangover), who is also thought to be penning the movie's script with Scott Silver (8 Mile). To top it all off, none other than Martin Scorsese is rumored to be producing.
According to Deadline:
"The intention is to make a gritty and grounded hard-boiled crime film set in early-80s Gotham City that isn't meant to feel like a DC movie as much as one of Scorsese's films from that era, like Taxi Driver, Raging Bull or The King Of Comedy."
But, as several sources – including the Hollywood Reporter – have noted, the legendary filmmaker's participation has not been fully confirmed yet.
#Joker movie: Martin Scorsese's involvement in the project is far from assured, sources say https://t.co/hQmWn63QtZ

— Hollywood Reporter (@THR) 22 août 2017
Nonetheless, we know Scorsese has a special penchant for painting mentally unstable characters, from Taxi Driver's Travis to Rupert Pupkin in The King of Comedy, making the Joker right up his street.
According to the same source, we should expect a bit of a change from the leading actor too. Following Jack Nicholson, Heath Ledger and Jared Leto, the iconic character will probably be played by a much younger actor given the fact that the film will be telling the Joker's background story.
Watch this space for more details about the seriously promising project.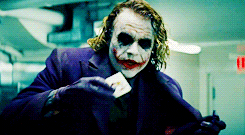 Read More - > 'Blade Runner 2049' trailer drops plenty of new footage