Despite a strong body of dramatic film work, from Schindler's List to Silence, in recent years Liam Neeson is best known for his cult status in action movies.
After appearing with his 'special set of skills' in sleeper hit Taken back in 2008, Neeson has become one of Hollywood's go-to guys for action movies featuring older male stars.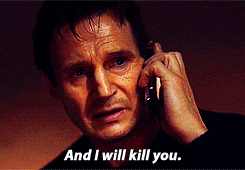 However, now he's announced that he's getting out of the thriller game before audiences start calling out the 65-year-old for being too old for the roles he's playing.
It's true that Hollywood is saturated with older actors who've continued to play action heroes and hard men. From Bruce Willis and Arnold Schwarzenegger to slightly younger actors like Tom Cruise... eventually the plausibility of these guys being able to survive the action sequences they're doing get a little far-fetched.
Speaking at the Toronto International Film Festival (TIFF) about his accidental turn into action roles Neeson said:
"I'm like: 'Guy's I'm sixty-fucking-five.' Audiences are eventually going to go: 'Come on'

I've shot one that's going to come out in January sometime. There might be another. That's it. But not Taken, none of that franchise stuff."
Fans who're disappointed by the news have a couple more chances to see Neeson taking down baddies, in his upcoming thriller The Commuter which also stars the excellent Vera Farmiga.
Due in theaters on January 12, 2018, check out the trailer below.