Bryan Cranston is unlikely to shake the shadow of his most famous role, Walter "Heisenberg" White, anytime soon. Four years after the end of Breaking Bad, the actor is still being interviewed about his cult antihero role.
Cranston is the kind of actor who will try to fully immerse themselves into their character, going as far as learning to roller-skate, covering himself in bees and contacting IRL professionals in the fields they have to depict.
So if you're supposed to portray the guy who's making "Blue Sky", the purest meth in the States, what you do? Well, you learn how to make it, obviously.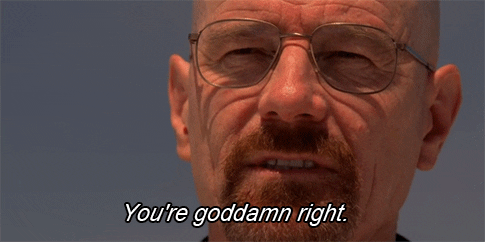 Cranston recently told an amazing anecdote on BBC1's The Graham Norton Show. In order to learn a bit more about crystal meth, he traveled to Arlington, Virginia to the Drug Enforcement Administration (DEA).
He was told by specialists about meth trafficking and chemists actually showed him how it was synthesized (a process he qualified as "fascinating" but "very dangerous"). So yes, Bryan Cranston can indeed cook Breaking Bad's "Bue Sky".
Also, he revealed that while honeymooning with his wife Robin Dearden in Switzerland, the couple got caught having sex in a train. Cranston recall: "My wife said these words that every husband wants to hear: Get off me".