Comedy-dramas focusing on romantic relationships are the TV equivalent to the good old-fashioned rom-coms, except that here the concept is updated. The characters face realistic situations and complex emotions, and evolve in more realistic settings.
We've put together a few of the funniest, intelligent, very much finger-on-the-pulse show that investigate what love means today. Binge-watch and take some notes.
You're the Worst: For commitment-phobes
Stephen Falk's series is a nod to the good old romantic comedies of yesteryear. Beginning with Gretchen and Jimmy meeting at a wedding. However, we quickly realise that these two are a perfect match for the worst reasons: they're utterly selfish, toxic and self-destructive.
Behind this unhinged couple always getting into trouble lies a far less fun reality: she's fighting depression and he's suffering from a chronic dread of emotional attachment and commitment. It's the kind of phobia that can kill a relationship, even if the love is real.
You're the Worst is a hysterical, engaging and sometimes cruelly human series, a great emotional rollercoaster that will not leave you unaffected. Season 4 starts on September 6.
Love: Being with someone who's utterly different from you
Judd Apatow's series is about the nascent relationship between two thirtysomethings with radically different personalities. Mickey, a self-destructive and emotionally dependent young woman on the mend meets Gus, a geek who's just broken up with his long-time girlfriend. The only thing they have in common is that they are rubbish at romantic relationships.
It's a kind of anti-love affair that, strangely, ends up just about working. He's all candour and innocence when she pushes him to let himself go, and their relationship is constantly on the brink of disaster with every misinterpreted text message or misjudged behaviour. And that's what makes this erratic couple so engaging.

Insecure: When you've got a partner but you're still a bit lost
Insecure remedies one the worst problems plaguing the world of dramatic comedies nowadays: the lack of diversity of the main characters. The majority of them deal with relationship issues from a problematic heterosexual, white perspective.
Created by the brilliant Issa Rae, Insecure is about the life of two black friends, and especially that of Issa. Rae's fictional alter-ego is a young woman who lacks self-confidence and is scared to achieve her professional dream.
She's been in a relationship for a few years but now faces an existential crisis when a former (very attractive) friend is back and shows he's interested. Her partner, Lawrence, has also let himself go a little and so Issa finds herself at the crossroads. Is she just going through a bad patch, should she hang on to her relationship or give in to her desires?
Anybody who's ever been in a relationship has been through this. Insecure does not necessarily have the answer, but Rae's human and endearing portrayal can only do us good.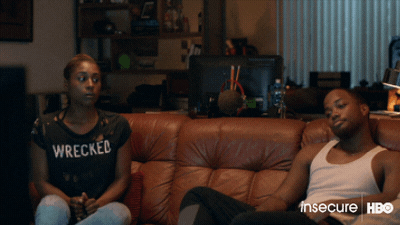 New Girl: The one for single people
Elizabeth Meriwether's series is an acute exploration of the virtues of friendship and of what modern romantic relationships are about. And if New Girl has somewhat been resting on its laurels in the last season, its heroine and fellow roommates are fortunately still as cute as ever.
Although couples have formed (Nick and Reagan, Cece and Schmidt, and Winston and Aly), every character has been single at one time or another in the series.
This has lead to superb TV moments (I am freeeee!), budding love stories that fizzle out, awkward dates, time in the friend zone (after what seems like forever, Jess falls massively for Nick again in season 6).
New Girl is also a series about the importance of friendship, presented here almost like an actual love affair. The quarrels, the friends who go away (Coach), they are all portrayed like a true breakup.
It's never for very long, of course, because basically New Girl, like her heroine, is a hugely feelgood series that believes in silver linings. And that's why we love it so much.
Man Seeking Woman: For when you've just been dumped
Feelings are real in Simon Rich's series, but they are presented in a pretty surreal way. This is what makes all the difference of this comedy starring Jay Baruchel.
He plays a thirty-something guy, the eternal teenager, who's just been dumped by his long-time girlfriend. Going back to being single is going to be painful, just like the grieving process of this dead relationship, which has smashed his life to pieces.
The first episodes, funny and touching, will especially speak to those who have just gone through their first serious breakup and are feeling distraught. Single men the world over will feel for him and will see themselves in the succession of catastrophic dates and potential new girlfriends Josh experiences.
Master of None: For those who just can't make up their minds
Aziz Ansari is fascinated with romantic relationships. He examines them in his book, Modern Romance, in his stand-up comedy and his role in Master of None.
In the series, he plays Dev an actor and foodie who's in search of the love of his life.
A true product of the times, he's forever dissatisfied, sailing the modern love seas of Tinder when he'd rather live La Dolce Vita. Master of None analyses with tenderness and relevance everything that has changed (or not) in the way we handle love.
We'll recognise in this series this feeling we all have that, thanks to dating apps, you always feel like you could find something better. The sheer panic of committing oneself to anything that requires more than just having a good time. This inability to take any decisions. And, in the end, this constant fear of failure.
But as the series shows, failing at love, if you take the time to have a good look at it, is like failing in your professional life: it will push you towards a healthier relationship and a healthier future. Casual: For those who're (too) close to their family
This series is about Val, a forty-something who, after her divorce, ends up living with her younger brother and her teenage daughter. All three are after casual, no-fuss relationships. A great idea, right? Well yeah, on paper.
IRL it's not so simple, as the first three seasons show. Casual relationships are a convenient but often uncomfortable in-between whose only good point is that they will prevent you from suffering too much. To commit to a real relationship is to accept the risk of suffering, however.
The other important aspect of this series is also that it shows that being too close to your family members (your daughter, your sister or your brother) can result in something precious –a confidence that no others can match- as easily as in a self-destructive relationship.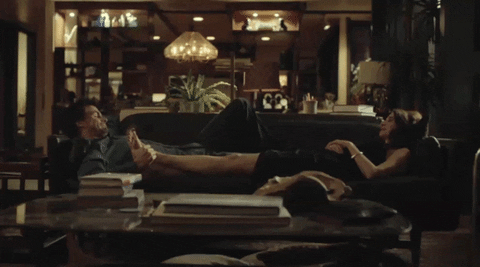 I Love Dick: One for the obsessive types
Married for many years, Chris falls crazy in love with Dick, an intellectual cowboy (yes, it's a kind of fantasy series) she met during an artist residency in Texas.
She turns her obsession into an art project, writing Dick hundreds of letters and questioning her marriage. Jill Soloway's series investigates the concept of female gaze (adopting a feminine point of view on female desire).
I Love Dick is very intense and confronts us to the crazy energy contained in a romantic obsession and how we constantly feed it. Chris (played by Kathryn Hahn) does the opposite of what a friend or a women's magazine would tell her to do: instead of trying to forget and escape her obsession, she throws herself body and soul into it.
Read More -> Read Chimamanda Adichie's New Short Story, 'How Did You Feel About It?'