Sure to be a heavy-hitter at this year's Emmy Awards, Hulu's adaptation of The Handmaid's Tale has been a series that has both enthralled and terrified audiences.
Based on the dystopian novel by Margaret Atwood, Handmaid's Tale has for many been a timely release due to the political turmoil facing the United States under President Trump.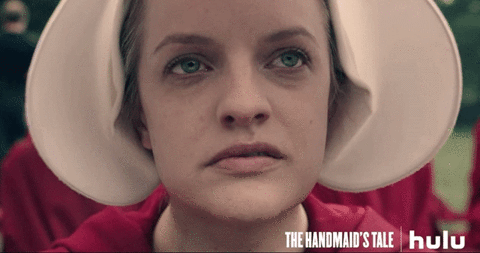 Its star, Elisabeth Moss, who rose to fame with roles in The West Wing and Mad Men, plays Offred. A woman whose rights are taken from her and is given to one of the infertile ruling couples to give birth for them.
Many have found the removal of women's rights and the creepy theocracy of Gilead in the show to be particularly disturbing. After posting photo of herself at a pre-Emmy event one fan likened the religious practises in the show to Scientology.
Moss has been a Scientologist since birth but like many celebrities involved in the religion she's remained fairly quiet about it's teachings and inner workings.
However when Instragram user @moelybanks wrote under Moss' post she actually responded.
"Love this adaptation so much. Question though, does it make you think twice about Scientology?

"Both Gilead and Scientology both believe that all outside sources (aka news) are wrong or evil… it's just very interesting."
It's true that Scientology has never taken kindly to those who leave its ranks and talk to the press, both actress Leah Remini and Louis Theroux have recently released documentaries targeting leader David Misgavige.
Responding to the question Moss wrote:
"That's actually not true at all about Scientology.

Religious freedom and tolerance and understanding the truth and equal rights for every race, religion and creed are extremely important to me. The most important things to me probably.

"And so Gilead and THT hit me on a very personal level. Thanks for the interesting question!"
Season two of The Handmaid's Tale is expected to land sometime in 2018, until then you can catch Moss in Top of the Lake: China Girl on BBC iPlayer.
Read More - > John Travolta asked for Scientology's approval before starring in 'Pulp Fiction'