Today marks what would have been Heath Ledger's 37th birthday. While his life may have been cut tragically short after the actor accidentally overdosed on prescription drugs, we can still look back on his career and celebrate the magnetism and talent he brought to the screen.
From when he shot to fame in the 90s cult classic 10 Things I Hate About You, dancing to David Bowie in A Knight's Tale to portraying the Joker in the Dark Knight series Heath is still remembered as one of the greatest actors of his generation.
The world was rocked by Heath's sudden passing in 2008, however, instead of dwelling on the sadness of his death below is a visual celebration of an actor who we will never tire of watching.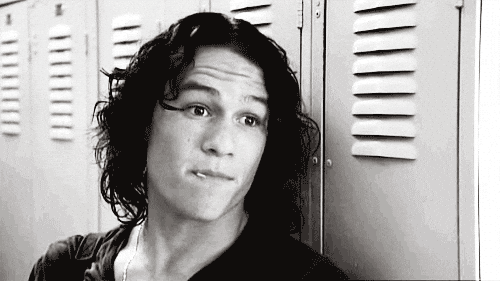 Beginnings & 10 Things
The 90s saw Heath rise to fame, not just in his native country of Australia but in the US and overseas. Most discovered his twinkly eyes and disarming grin in the 90s teen classic 10 Things I Hate About You.
The film was not only a stepping stone to fame for Ledger, but also for several of his co-stars such as Julia Stiles and Joseph Gordon-Levitt.
As well as playing Patrick Verona in 10 Things, Heath also starred alongside actress Rose Byrne in Australian crime thriller Two Hands. 
Blonde and beautiful
After 10 Things Heath went on to appear in a number of movies that played on his good looks. Most notably A Knight's Tale in 2001. While the storyline may have been ridiculous, the film was a success and placed Heath firmly in the hearts of the masses.
Around this time Heath also appeared in films such as The Patriot with Mel Gibson, Ned Kelly alonside Orlando Bloom and Casanova. 
Alternative spirit
As Heath's career progressed the actor continued to choose roles that would challenge him. One such film was Ang Lee's Brokeback Mountain. 
The film mostly garnered the attention of the media due to the gay love story between Heath and Jake Gyllenhaal's character's Ennis and Jack.
The beautiful film won numerous awards and was one of the several eclectic projects that Heath worked on in the mid-00s. He appeared as Skip Engblom in skateboarding biopic Lords of Dogtown and as poet and heroin addict Dan in Candy.
The Joker and final projects
Due to the sudden and tragic nature of Heath's death the one character his story has become entwined with is that of the Joker. Winning numerous posthumous awards for his chilling performance in Christopher Nolan's The Dark Knight, Heath was hardly recognisable as a character he described to the New York Times as "psychopathic, mass-murdering, schizophrenic clown with zero empathy".
He brought such intensity to the role that his co-star Christian Bale told Yahoo recently that he wasn't able to nail his performance quite as well.
"Heath turned up and just kind of completely ruined all my plans. Because I went, 'He's so much more interesting than me and what I'm doing.'"
After Heath's death, his final project, Terry Gilliam's The Imaginarium of Doctor Parnassus was continued by enlisting fellow actors Johnny Depp, Jude Law, and Colin Farrell. The three played "fantasy transformations" of Heath's character so that the actor's final performance could be seen by fans in cinemas.
Read More - > A new documentary about Heath Ledger is underway